Steam Electrical Generator Trainer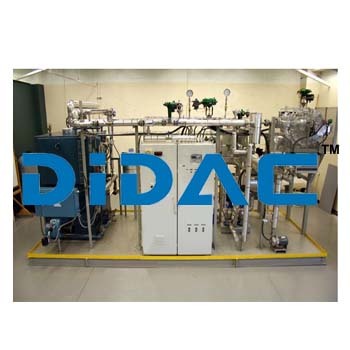 Steam Electrical Generator Trainer
Price And Quantity
Pack/Packs

50000.00 - 500000.00 INR
Product Description
Steam Electrical Generator Trainer
Function of Steam Electrical Generator Trainer
The Steam Power generation Thermodynamics Trainer is purpose designed and built for hands-on education and training on topics related to steam generation, power generation and control. Steam Electrical Generator Trainer demonstrates the conversion of stored chemical energy to electricity the primary method of generating electricity used today. The Steam Electrical Generator Trainer uses a natural gas boiler to generate steam which is then expanded in a steam turbine, converting the heat energy of the steam into electrical energy via the turbo-generator.
Steam Electrical Generator Trainer is mounted complete on a single skid allowing for compact installation. Industrial type process components, process measurement and control devices have been used throughout the trainer to provide the student with a realistic training experience using equipment common to industry. Steam Electrical Generator Trainer is a real system that generates electricity from a natural gas fuel on a small scale. In every other respect the system is designed, operated, controlled, and maintained in the same way as the full-scale industrial electrical generating facilities.
Specification of Steam Electrical Generator Trainer
Boiler
Natural gas 863 lbs of saturated steam at 150 psi
Full automatic control via integrated PLC and communication with DCS
Turbine
Single stage, integrated speed governor and over-speed trip device
Centrifugal type condensate return and boiler feed water pumps
Electrical generation equipment
Alternator developing up to 10-15 kW 3 phase electrical power
Power dissipated in a resistive load bank with variable load controls
Integrated switchgear and safety controls
All industrial indications and controls
Optional Analytical controls
Combustion reaction reactant and product flow measurement and gas analysis equipment
Fuel and air flow meters
Steam flow mete
Flue gas analyzer (O2, CO2, and CO)
Operator controls of Steam Electrical Generator Trainer
Emerson Delta V distributed control system that operates in parallel to the local control systems provided as integrated with the component parts steam system components. The DCS will provide overall alarming and control functions in parallel and in cooperation with the local control systems integrated with the steam components.