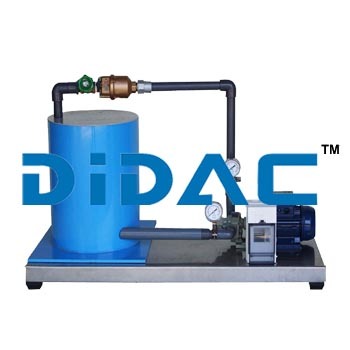 Compact Gear Pump Test Set
Product Description
Compact Gear Pump Test Set
Description of Compact Gear Pump Test Set
Compact Gear Pump Test Set is a self contained bench top unit for studying the gear pump flow rate vs head at a fixed speed. The unit consists of a storage tank and a gear pump with a motor on a steel base, and measuring instruments. It is to be used with oil or glycol.
Experiments of Compact Gear Pump Test Set
Flow rate vs head.
Technical Data of Compact Gear Pump Test Set
Pump ratings at 1500 rpm
Maximum flow rate : 20 lpm.
Maximum head : 30 m water.
Pressure relief valve : Built-in.
Measuring instruments:
Pressures : Pressure gauges at pump suction and discharge.
Flow rate : Oil meter.
Power supplied : 220V 1Ph 50Hz. Other power supply is available on request.