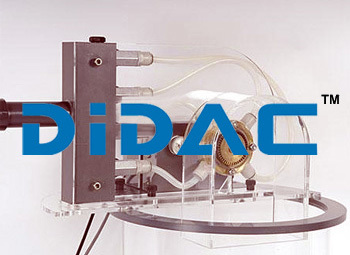 Impulse Turbine Demonstration Unit
Product Description
Specification of

Impulse Turbine
Small-scale hydro power unit designed to demonstrate the operating principles of an impulse turbine.
Horizontal shaft and transparent guarding enable excellent visibility.
Mounts on a dedicated service unit.
Connects to a PC via the service unit and a USB interface device.
Description of Impulse Turbine
The consists of an inlet manifold that supplies water to four jets, which are equally spaced around the turbine runner. Each of the jets can be individually controlled using ball valves. The runner itself is mounted on a horizontal shaft with a clear acrylic splash guard to enable maximum visibility of the workings. The unit incorporates a pressure sensor to measure the inlet condition of the water. This pressure can be accurately controlled using the software supplied with the service unit.